27 member states of the European Union and United Kingdom
EFTA / EEA countries: Iceland, Liechtenstein, Norway
EU candidate countries: Turkey, the former Yugoslav Republic of Macedonia
Incoming Students
Erasmus+ Incoming Students
All exchange students must be nominated by their home universities by email to erasmus@vizja.pl
Application deadlines:
Winter Semester: June 30
Summer Semester: November 30
AcademicCalendar
Winter semester: 1st October – 28th February
Summer semester: 1st March – 30th June
As part of the development and support program for students of the University of Economics and Human Sciences in Warsaw "Study. Living. Work in Warsaw" Academic Housing Network was created.
Academic Housing Network offers the possibility of accommodation while studying for Polish and foreign students. We offer places in single, double, triple and quadruple. Getting to the University shall not exceed 30 minutes.
The apartments include a kitchen for common use by roommates, bathroom and toilet. The rooms are equipped with basic furniture – beds, desks, wardrobes.
The university currently has over 200 locations in more than 40 apartments.
In the coming years we plan to dynamic development of the Academic Housing Network.
Applications for places in the Academic Housing Network can be made using the recruitment system after logging into the account of the candidate or the Extranet.
Detailed information can be obtained by calling +48 533 192 942 –  or at asm@vizja.pl.
Course catalogues
Please, contact the Erasmus Office to confirm the availability of selected courses: erasmus@vizja.pl
Health Insurance
Medical insurance is obligatory for all foreign students.
European Students
To be eligible for public medical services during your stay in Poland, it is necessary to bring your European Health Insurance Card.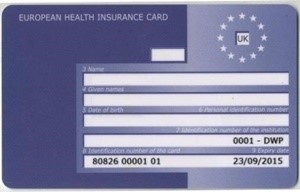 Non-European Students
You must enquire in your country what type of insurance will be the best one during your stay in Poland. The most comfortable option will be the insurance which will allow you to get a refund for medical treatment. Please, make sure to settle the insurance matters. It is very important and it will protect you from incurring additional costs. If you do not have insurance, you will have to pay for a medical appointment – approximately PLN 100-200 (or more for consulting a specialist).
Grading System
| | | |
| --- | --- | --- |
| Local Grade | ECTS Grade | Explanation |
| 6/5 | A | EXCELLENT – outstanding performance with only minor errors |
| 4+ | B | VERY GOOD – above the average standard but with some errors |
| 4 | C | GOOD – generally sound work with a number of notable errors |
| 3+ | D | SATISFACTORY – fair but with significant shortcomings |
| 3 | E | SUFFICIENT – performance meets the minimum criteria |
| 2 | FX/F | FAIL – some more work required before the credit can be awarded |
Language Preparatory School aims to prepare future students for their studies conducted in Polish or English.
Completion of the language course gives you the opportunity to participate in classes and smooth functioning in the academic environment. If you want to improve your language skills to start English or Polish taught studies or if you want to learn from the scratch – Preparatory Language School is the right choice for you. Check it out.